Nature Preserve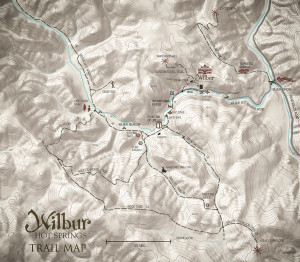 Wilbur Hot Springs' Nature Preserve is a sanctuary of peaceful valleys, panoramic ridges, open meadows and the rare remnants of century-old mining operations. The land borders Bear Valley, renowned for its incredible wildflower displays in the spring. The original hotel and hot springs, purchased by Dr. Richard Miller in 1972, was approximately 240 acres. In 1999, Dr. Miller purchased the surrounding 1560 acres and designated the area as a nature preserve. He placed a conservation easement on the property, thereby limiting development in perpetuity. In 2006, Wilbur began working with range ecologist Craig Thomsen from UC Davis to restore native plants to the area and combat invasive species.
Explore nature at Wilbur and feed your spirit—enjoy long walks, hiking, running, mountain biking, bird-watching, and incredible stargazing at night.
Enjoy exploring Wilbur's many trails through abundant native oak, pine, buckeye, redbud and manzanita. A diverse array of wildflowers blooms in springtime, including California Poppy, many varieties of Lupine, Paintbrush, Yarrow, Larkspur, Clarkia, Owl's Clover, Fairy Lanterns, Shooting Stars, Tidy Tips, Goldfields, Cream Cups, Western Wallflowers, Mariposa Lily, the rare Adobe Lily and more.
Year-round, bird-watchers are rewarded with sightings of golden eagles, great blue herons, killdeer, woodpeckers, wild turkeys, ruby-crowned kinglets, goldfinches, western bluebirds, Bullock's orioles, red-winged blackbirds, cliff swallows, belted kingfishers, and a variety of owls and hawks, including red tails, northern harriers, and American kestrels. The bald eagle is one of the more spectacular winter visitors in our area. Wildlife includes deer, ground and tree squirrels, coyotes, badgers, and wild pigs. If you're lucky, you might see a shy bobcat or gray fox. Old mine shafts serve as homes for colonies of endangered Townsend's big-eared bats. During warmer months, they emerge from the caves at twilight and eat hundreds of insects at night.
Within the nature preserve, there are various unique sites to visit and spend some time in. You are invited to visit our Wishing Tree, where you can write your wishes, dreams, hopes and prayers on colorful tags and tie them to its branches. On New Year's Eve, we mindfully remove each wish to be released and transformed later on at our annual New Year's Eve bonfire. The Memorial Wind Chime Park is a place to remember and honor loved ones with a wind chime. We invite you to make your own wind chime, bring one from home, or purchase one from our Country Store. Take a moment to read the entries in the memorial journal or add one of your own memories of a loved one as you listen to the chimes sing in the wind.
Fountain of Life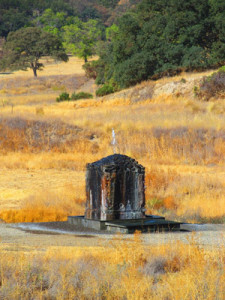 The Fountain of Life geyser is a truly unique feature at Wilbur. There are only about 1,100 known geysers on the earth, about half of which are located in Yellowstone National Park. Of the remaining geysers, the majority are steam-driven, which is not the case for the Fountain of Life. This bubbling, gurgling geyser is primarily driven by the release of carbon dioxide from the ancient sea floor into highly mineralized meteoric water, which is heated by a pocket of magma generated by the friction between two tectonic plates just below this region. As the pressurized water deep underground releases the dissolved gases, bubbles build up inside the geyser shaft and displace the column of water with gas, resulting in a sudden pressure drop. The remaining gases are explosively released, which forces the column of water up through the geyser vent approximately every 45 minutes.