Guided Meditation with Anyes
September 28 and 29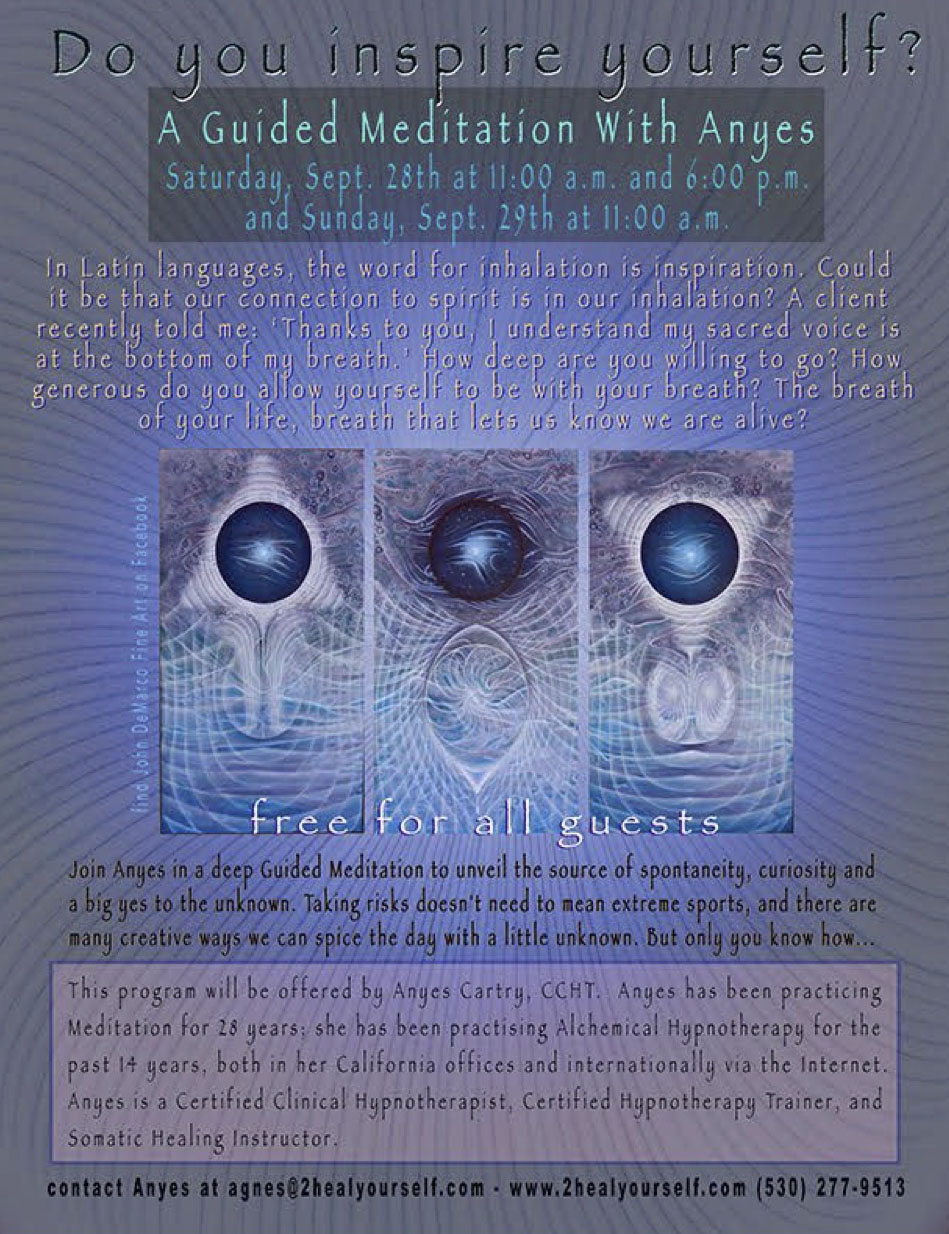 Sarana Yoga Retreats
September 20-22 and October 11-13
Join Sarana in 2019 for a weekend of breathing, chanting, asana and soaking in the healing mineral waters of Wilbur. Strengthen your practice while relaxing and rejuvenating your body and mind. You'll step back from your daily routines and retreat to this sacred land, home to healing waters that have been used for renewal for centuries. The popular Sarana Yoga retreats at Wilbur always fill up fast.
Tuesday evening, October 1st 7:30-8:30 pm
Mini Workshop with Julia Harrell, Clairvoyant Reader, Healer, Teacher
 'How to Open your Natural Spiritual Abilities' – Fine tune your inner compass 
In this free evening workshop we will explore our natural spiritual abilities, how to utilize them to further our awareness in daily living, work, spiritual growth and ultimately to assist in fulfilling our purpose on our path. We all have these abilities built in and at some point in our lives we access them to different degrees whether we know about them or associate them with fancy names or not. These abilities can be harnessed to deepen ones spiritual growth or to simply gather more insight and understanding of those we love or interact with.
Many have heard 'Ask And It Is Given' but how do we know the response from the Universe or get to where we are going? By learning to utilize these abilities, such as:
Seeing energies or the truth- Clairvoyance
Hearing information- Clairaudience
Feeling energy- Clairsentience
Gathering information through touching objects- Psychometry
and more!
This will be a fun interactive evening for all levels of meditators, from no experience to years of practice. We will take it from where you are to your next level in development. No super powers necessary to join the class.
Guest Chef Weekend with Chef Bodhi
October 18-20
Bodhi Cole believes that eating well is one of the best things we can do for ourselves and our planet. She is totally committed to using all organic ingredients, and sourcing from the abundance of local farms here in Northern California. Bodhi has been cooking for over 20 years, and loves cooking delicious and nourishing food for the body and spirit.
Find out more
Guided Meditation with Anyes
November 1 and 2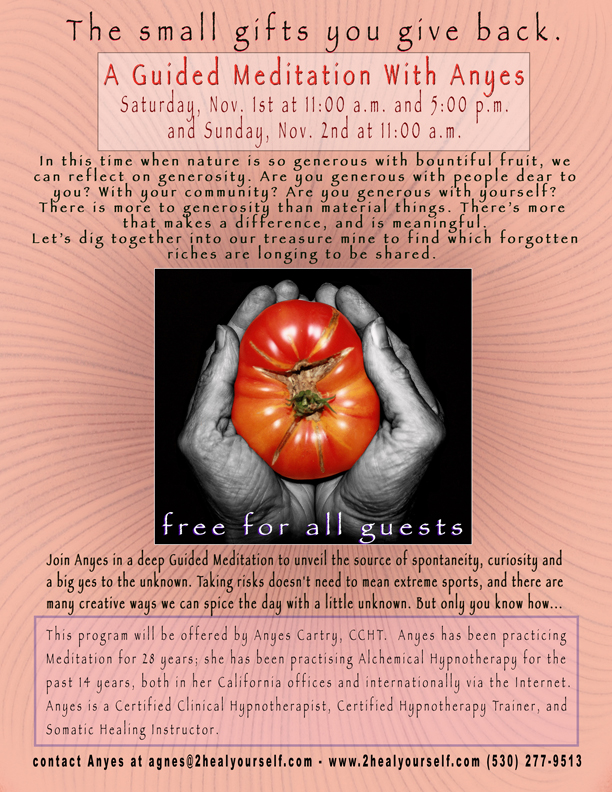 Tibetan Cranial 5 day with Robert Helliesen
November 17- November 22
Are you ready for transformation?
Come to Wilbur Hot Springs, a Sanctuary for the Self, and experience Tibetan Cranial® with Robert Helliesen. Robert is a trained Tibetan Cranial® Practitioner and will be educating and practicing exclusively at the Wilbur Hot Springs.