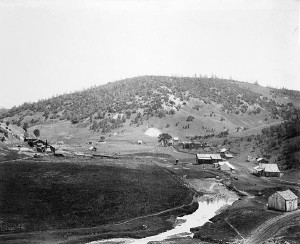 Wilbur Hot Springs opened to the public in 1865. Prior to that it was the healing and ceremonial grounds of the Patwin and Yoche de tribes of the Wintun, or Wintu, nation. The present Yoche de Tribe own and operate the Cache Creek Casino about 30 minutes south of Wilbur. They are one of, if not the most financially successful native American tribes on our planet.
Ezekial Wilbur named the hot springs after himself, in 1865. In 1972 I had the privilege of becoming Wilbur's caretaker, and have since retained that privilege for the last 47 years.
When I arrived in 1972, I named the site: The People's Health Sanctuary at Wilbur Hot Springs, alter shortened to The Health Sanctuary at Wilbur Hot Springs. A sanctuary is a place of safety. And Wilbur, first and foremost, provides safety for the mind, body and spirit.
The pristine environment combine with the kindness of Wilbur's staff creates an atmosphere of safety. The sound level at Wilbur, is ultimately safe. Wilbur's decibel level has been measured by the engineering firm of Dames and Moore, as being quieter than the average library. Wilbur's air quality, being scores of miles from industrial pollution, including highway automobile fumes, is unsurpassed in safety, albeit a bit odoriferous with sulfur in accord with prevailing winds. Wilbur's hot medicine water and delicious cold drinking water both come from the ground under the property. In addition, we test the waters at least monthly.
Following safety, the other core principles for Wilbur's Health Sanctuary are cleanliness, kindness, dignity, respect, sense of humor, and a realization that whomever joins us at Wilbur, for any given time, is spending their entire Now, living with us.
In upcoming Wilbur newsletters I will elaborate on our core Health Sanctuary principles, and dive deeper into the history of Wilbur Hot Springs.
Say hello next time you are at Wilbur. When walking, we are the very tall couple, other times we are the very short couple sitting in low slung recumbent tricycles.
Richard & Jolee
Caretakers, Wilbur Hot Springs
1972-present
Category: